About the Journal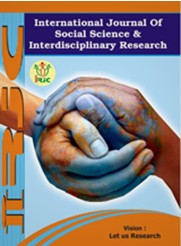 INTERNATIONAL JOURNAL OF SOCIAL SCIENCE & INTERDISCIPLINARY RESEARCH ISSN: 2277-3630 Impact factor: 7.429
The aim of journal is to publish research articles that are related to social sciences. It invites high quality studies in the fields of economics, commerce, management, public administration, political science, education, sports, public finance, business administration, and business law. It welcomes studies that are written other researchers and practitioners. It welcomes papers from both academicians and practitioners on conceptual paradigms, academic research, theories, business models, as well as organizational practices in humanities and social science. The goal of journal is to constitute a qualified and continual platform for sharing studies of academicians, researchers and practitioners. The journal welcomes manuscript submissions from scholars everywhere.
All submitted articles should be original and must not be under consideration for publication elsewhere. Manuscripts should follow the format style of the journal.
Copyright and Reprint Permission
Indexing or Abstracting is permitted with credit to the source. Personal use of this material is permitted. However, permission to reprint/republish this material for advertising or promotional purposes or for creating new collective works for resale or redistribution to servers or lists, or to reuse any copyrighted component of this work in other works must be obtained from the journal.
ISSN: 2277-3630
Impact factor: 7.429